Coronavirus – the latest updates from Russell Hobbs -
FIND OUT MORE
Explore Hand Stand Mixer
22900-56
Mixing and beating just got easier. The Explore Hand Stand Mixer is a kitchen essential that takes the hard work out of batters, cake mixes and dough making. It's ideal if you're new to baking or making meals from scratch as it's so simple to use. You can use it on its stand or as a portable hand mixer. With 5 speed settings and a turbo function it makes whisking by hand a thing of the past. Simply attach the mixer to the side of the bowl and watch it go. It has strong stainless steel attachments that you can clip on and off depending on what you're making.
To make it even more versatile, you can detach the mixer from its stand and use as a hand mixer. It's great for when you're moving around, mixing several things at once, or simply if it's more convenient. It also comes with 2 stainless steel beaters and 2 stainless steel dough hooks and a practical 3.5 litre auto-rotating mixing bowl that can all be removed for easy cleaning. As well as being pleasing to the eye with its high style, modern white finish, it has been beautifully engineered to give you a product that's fundamentally easy to use.
---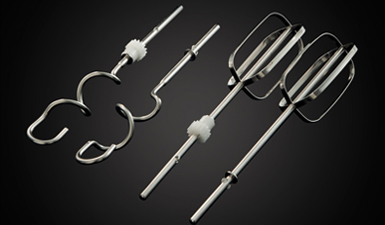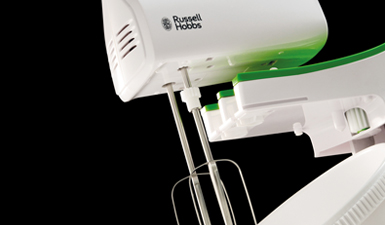 Dual purpose
Can be used as a Stand Mixer in its own bowl, or as a Hand Mixer when you want more flexibility - making it a truly versatile appliance.
5 speed hand mixer
Turbo setting
Includes 2 stainless steel beaters and 2 stainless steel dough hooks
With auto rotating plastic bowl
Can also be used as a stand-alone hand mixer
300 Watts

2 YEAR GUARANTEE +1

MIX CAKE BATTER

RECIPES INCLUDED

WHIP UP CREAM

WHISK EGGS