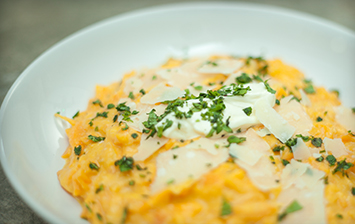 Ingredients
1 butternut squash
20ml vegetable oil
1 banana shallot, finely diced
2 garlic cloves, finely chopped
20ml white wine
75ml vegetable stock
75g butter
100g parmesan, finely grated
100g crème fraiche
½ bunch fresh flat leaf parsley, chopped
Salt and pepper to taste

Method (Serves 4)
Spiralize the butternut squash with the thin noodle blade. Cut the strands into approximately 1cm pieces.
Heat the oil until hot and lightly fry the shallots and garlic for 2-3 minutes without browning them.
Add the wine and carry on cooking the wine in the pan until it has almost disappeared.
Add the butternut squash and stock and cook for 1-2 minutes. Stir in the butter and cook for 1-2 minutes until the butternut squash starts to soften. Be careful not to overcook the butternut squash.
Add the parmesan, crème fraiche and parsley, check the seasoning and serve.