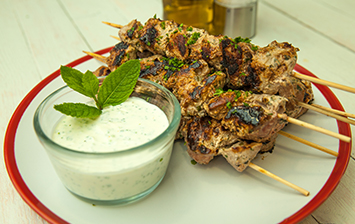 Ingredients
500g diced

1-2 cm pieces of

lamb shoulder
1 bunch fresh coriander
1 bunch fresh mint
200g Greek yoghurt
3g paprika
3g chilli powder
3g ground cumin
Salt and cracked black pepper

Method
Mix together the coriander, mint, yoghurt, paprika, chilli, cumin and seasoning in a bowl.
Add the lamb making sure it is well coated. Place the coated lamb pieces onto the skewers (soak wooden skewers for 15 minutes before using). Leave to marinate in the fridge for at least 2 hours.
Remove from the fridge 15-20 minutes before cooking. Preheat the grill on setting 5. Once heated, cook the lamb on the skewers until the juices run clear.