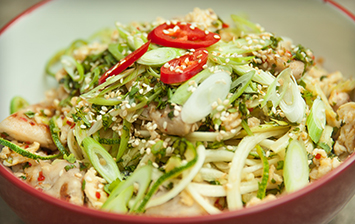 Ingredients
2 large courgettes
5g fresh ginger, finely grated
200g boneless chicken thigh, cut into 1-2 cm pieces
4 spring onions, sliced
½ bunch fresh coriander, chopped
½ red chilli, finely diced
3 medium free range eggs
30ml vegetable oil
20ml sesame oil
20ml dark soy sauce
Salt and pepper to taste

Method (Serves 4)
Spiralize the courgettes with the thin noodle blade.
Heat the oil in a pan then fry the chicken for 4-5 minutes stirring occasionally until golden brown all over. Remove the cooked chicken from the pan and drain on kitchen paper, set aside.
Return the pan to the heat and add the chilli and ginger. Fry for 1-2 minutes without browning.
Whisk the eggs together then add them to the pan. Keep stirring with a fork to break the eggs up as they cook. Once the eggs are cooked add the courgette noodles, season and fry for 3-4 minutes.
Add the spring onions, sesame oil and the cooked chicken and fry for a further 2-3 minutes. Stir in the soy sauce and coriander and serve.