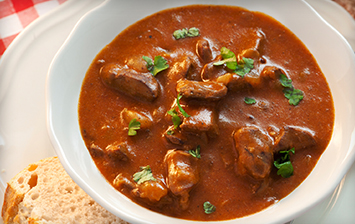 Ingredients
2 large Onions, sliced
1 kg. Braising Steak, cut into chunks
100g Lard
500g Tomatoes, chopped
1 Garlic clove, crushed
1 Bouquet Garni
Salt and Pepper to taste
1 tsp Paprika
2 pts Beef Stock
700g Peeled potatoes, chopped

Method
Firstly in your Russell Hobbs Multi cooker, select the casserole programme and add the lard to the bowl.
When hot add the meat and onions to brown off.
Meanwhile score the skins of the tomatoes and place them in boiling water for a couple of minutes.
Remove the skins and then chop into chunks.
Add them to the meat along with the garlic and the bouquet garni, salt, pepper and the paprika.
Add enough stock to cover the meat and close the lid and allow to simmer for 1 hour on the casserole programme again.
If needed add a little extra stock during this time.
After the hour add the potatoes, the remaining stock and enough boiling water to cover the potatoes in the bowl.
Cook until the potatoes are soft. Check the seasoning and serve with crusty bread.
Top Tip : This is almost better the next day!