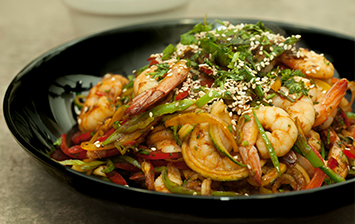 Ingredients
King prawns, peeled
20ml sesame oil
10g fresh ginger, finely diced
15g sesame seeds, toasted
100g mange tout, finely sliced
2 garlic cloves, finely chopped
½ red chilli, finely sliced
40ml dark soy sauce
30ml vegetable oil
1 lime, juice and zest
½ red pepper, deseeded, finely sliced
½ yellow pepper, deseeded, finely sliced
½ daikon
1 large courgette
40g beansprouts
30ml sweet chilli sauce
½ bunch fresh coriander
Salt and pepper to taste

Method (Serves 4)
Spiralize the daikon and the courgette with the thin noodle blade then cut into 3-4 cm pieces.
Marinate the prawn in the sesame oil for 20 minutes. Cook the prawns for 2-3 minutes. Remove from the pan and drain on kitchen paper. Return the pan to the heat and add the vegetable oil.
When the oil is hot add the garlic, chilli, ginger and toasted sesame seeds and fry for 3-4 minutes stirring occasionally, don't let the ingredients brown.
Add the peppers, daikon, mange tout, courgette and fry for a further 3-4 minutes. Add the beansprouts and fry for a further 2-3 minutes.
Return the prawns to the pan and stir in the soy sauce and the sweet chilli sauce. Finish with the lime and coriander. Check the seasoning and serve.