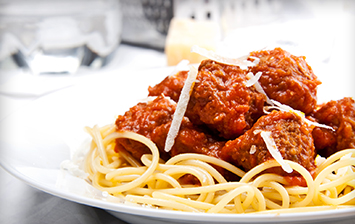 Ingredients
1 lg. Onion, finely chopped
2 Garlic cloves, crushed
2 tbsp. Olive oil
5 sprigs Parsley, chopped
4 Sprigs Fresh Basil, chopped, (or 1 tsp Dried Basil)
1 tsp Oregano
1 Tin chopped Tomatoes
2 Beef Tomatoes, chopped
2 tbsp. Tomato puree
250 ml. Chicken stock
1 tsp. Sugar
2 tbsp. Parmesan, grated
The Meatballs
5 tbsp. Bread Crumbs
1 lb Lean Mince
2 large Eggs, lightly beaten
150 g Parmesan, grated
2 Garlic cloves, crushed
3 tbsp. fresh Parsley, chopped
1 tsp. Dried Oregano
A good pinch Salt and pepper
3 tbsp. Olive oil

Method
Firstly the sauce: using your Russell Hobs Multi Cooker Select the casserole programme and add the oil, onion and the garlic and sweat off for 2 - 3 minutes; add parsley, basil, tomatoes, tomato paste, stock, sugar, parmesan, salt and oregano, and simmer the sauce, stirring occasionally, for 30 minutes.
While the sauce is cooking, prepare the meatballs: in a large bowl combine bread crumbs, mince, eggs, parmesan, parsley, garlic, the oregano, salt, and pepper; mix well and form into 8 meatballs.
When the sauce has had 30 minutes add the meatballs and continue with the casserole programme for the last 30 minutes, stirring occasionally.
These are best served with pasta and a glass of red wine. And a sprinkling of freshly chopped basil and grated parmesan!
Top Tip: this dish is even better if served the next day!!