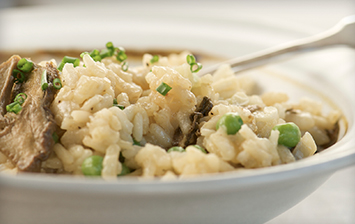 Ingredients
2 tsp. Olive oil
1 bunch Spring onions, trimmed and chopped
2 beakers Risotto rice
1 Garlic clove, crushed
200g Mushrooms, sliced
900ml hot Vegetable stock
75g Peas
Ground black pepper
1tbsp. Fresh Parmesan - grated

Method
Heat your Russell Hobbs Multi Cooker on the Steam programme and cook the spring onions until soft in the oil.
Add the rice and cook on for another few minutes, stirring occasionally.
Add the garlic and mushrooms, then pour in the hot stock for 30 minutes or until the liquid has been absorbed. Stir occasionally.
Check that the rice is tender. It should have a nice creamy texture. Add the peas, stirring gently to mix them in. Check the seasoning, adding some pepper if needed.