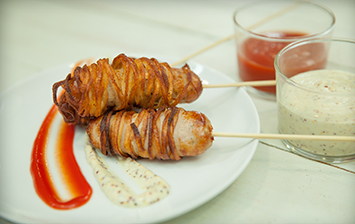 Ingredients
6 sausages
3 potatoes, medium sized
250g butter
Salt and pepper

Method (3 Servings)
Season the butter then heat it in a pan and remove it from the heat just before the butter starts to boil.
Spiralize the potatoes with the Thin noodle blade then add the potatoes to the butter. Stir and set aside to cool making sure the potato is covered by the butter.
Once cooled to room temperature wrap the sausages with the potato spirals then refrigerate them for at least 40 minutes.
Heat a fryer to 155ºC then cook the sausages for 12-15 minutes until the potato is crispy and the sausages are cooked through.