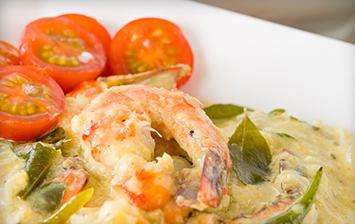 Ingredients
10 – 15 Large Prawns, raw without shells
2 Lemongrass Sticks
400ml Coconut milk (from a tin)
5 sprigs Coriander
2 tbsp. Groundnut oil
2 tsp. Turmeric
2 Garlic Cloves
1 sm. Chilli
1 small piece fresh Ginger, peeled
2 Pak choi, roughly chopped
½ Sweet Red pepper, sliced into strips
1 tsp. Mirin or dry sherry
1 tsp. Soft Brown Sugar
Juice from a Lime
To Garnish
3- 4 sprigs mint – leaves only
3-4 sprigs Coriander, chopped

Method
Firstly make the base for the curry; place the coriander, garlic, turmeric, lemongrass, chilli, ginger, the ground nut oil and 2 tablespoons of the coconut milk in your Russell Hobbs food processor and blitz into a sauce.
Select the fish programme on your Russell Hobbs Multi Cooker and put the sauce in the bowl.
Let the mix cook out for a couple of minutes then add the remaining coconut milk, the pack choi, the pepper and the raw prawns. Cook on until the prawns turn colour after 4- 6 minutes.
Finally add the mirin, fish sauce, sugar and the juice of a lime. Serve with a sprinkle of mixed mint and coriander leaves.