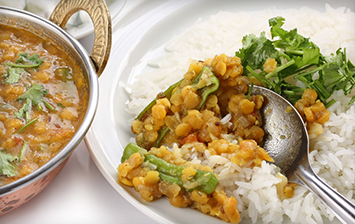 Ingredients
3 cups Red lentils,
5 cups Water
2 Tins Chopped Tomatoes
1 large Onion, diced
4 Garlic cloves, minced
2 tbsp. fresh Ginger, grated
1 tbsp. Turmeric
3 Green Cardamom pods
1 Bay leaf
2 tsp. each: Cumin seeds, Mustard seeds, Onion seeds, Fenugreek seeds
1 tsp. Fennel seeds
1 ½ tsp. Salt and Pepper
1 tsp. Sugar
For serving:
Rice
Small Bunch Coriander, chopped
Fresh lemon juice, optional

Method
Firstly select the sear function on your Russell Hobbs slow cooker and place all of the seeds into the bowl and heat for a few minutes.
When they begin to smell fragrant, add the lentils and add the 6 cups water.
Add the tomatoes, onion, garlic, ginger, turmeric, cardamom pods, bay leaf, salt and black pepper.
Stir well to combine all ingredients.
Place lid on slow cooker and cook for 8 hours.
Remove lid after cooking time and stir.
Taste and if lentils are not soft, cook for another 30-60 minutes, if needed. Add more salt and pepper, if needed.
To serve - Ladle the dal over brown rice and top with a squeeze of fresh lemon and some chopped coriander.