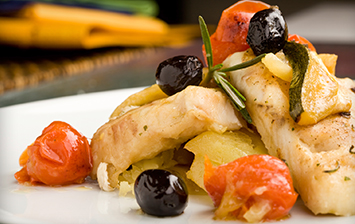 Ingredients
2 lbs Cod fillets
3/4 cup Dry White wine
20 mixed Olives
1 Lemon zested
1 tbsp. lemon juice
1 tbsp. Olive oil
1 shallot, finely chopped
1 Garlic Clove, crushed
Salt and pepper to taste
A Good pinch Chilli flakes
3 sprigs Flat-leaf parsley, chopped

Method
Select the fish programme on your Russell Hobbs Multi cooker.
When hot, place the fish in the wine to reach halfway up the sides of the fish.
Scatter the olives, crushed garlic and lemon zest around the fish.
Drizzle with the oil and season with salt, pepper, and the chilli.
Select 20 minutes on the timer.
Taste the sauce for flavour and adjust accordingly.
Check the fish and if it flakes easily with a fork, it is ready. To serve, sprinkle with the parsley and serve with a generous amount of sauce and olives.