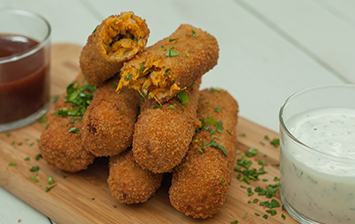 Ingredients
1 sweet potato
200g plain cooked mashed sweet potato
6 rashers streaky bacon, cooked to be crispy
100g parmesan cheese, finely grated
½ bunch fresh flat leaf parsley
40g plain flour
2 large free range eggs
250g breadcrumbs
Salt and pepper to taste

Method (Makes 6-8 croquettes approx.)
Spiralize the sweet potato with the Thick noodle blade. Cut the strands into approximately 1cm pieces.
Mix together the spiralized sweet potato, cooked sweet potato, bacon, parmesan, parsley and season
with salt and pepper.
Divide the mixture into even portions and roll each portion into a cylindrical shaped croquette.
Refrigerate for 20 minutes.
Put the flour, eggs and breadcrumbs into separate bowls.
Dip a croquette into the flour and pat off the excess.
Then dip it into the egg, then into the breadcrumbs. Do this with each croquette.
To cook, fry in oil at 180ºC for 4-5 minutes.