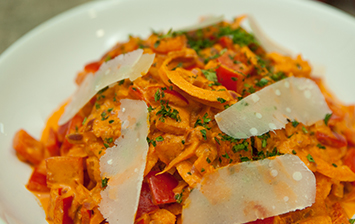 Ingredients
2 sweet potatoes
3 red peppers cut into approx. 1 cm dice
2 red onions, finely diced
3 garlic cloves, finely
chopped
200ml red pepper sauce
3g paprika
30ml olive oil
100ml white wine
200ml double cream
½ bunch fresh flat leaf
parsley, chopped
Salt and pepper to taste

Method (Serves 4)
Spiralize the sweet potatoes with the thick noodle blade. Cut the strands into 4-5 cm pieces. Cook the sweet potato in boiling salted water for 30 seconds. Drain then place in iced water until cold before removing and drying on kitchen paper, making sure any excess liquid is removed.
Heat the olive oil until hot then fry the onion and garlic for 1-2 minutes.
Add the peppers and paprika and fry for a further 3-4 minutes until they are soft.
Add the wine and simmer until the wine has reduced by ¾ before adding the red pepper sauce, cook for a further 2-3 minutes then add the cream. Bring to the boil then stir in the sweet potato. Simmer for 5-6 minutes then season and add the chopped parsley. Serve with grated parmesan.