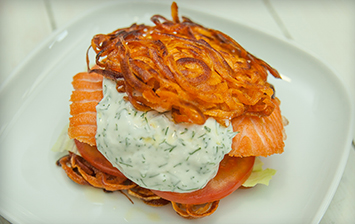 Ingredients
4 x 200g salmon portions
3 large sweet potatoes
20ml olive oil
Lettuce
100g mayonnaise
15g fresh dill, chopped
½ lemon, juice and zest
Salt and pepper to taste

Method (Serves 4)
Combine the mayonnaise, dill, lemon and seasoning in a bowl then refrigerate.
Spiralize the sweet potato with the Thin noodle blade. Put the sweet potato into a pan of boiling salted water. After 30 seconds drain then place into cold water. Once cooled, drain and dry any excess liquid using kitchen paper.
Put the sweet potato, olive oil and seasoning into a bowl and mix well. Divide the mixture evenly between 8 burger moulds. Use the bottom of a can or something of a similar size to lightly press down the mixture into the mould. Refrigerate for at least 30-40 minutes.
To cook, heat a little oil in a pan and fry the sweet potato on each side until golden brown. Cook the salmon then place a piece onto four of the sweet potato disks. Add a spoonful of the dill, mayonnaise and a piece of lettuce. Top with the other sweet potato discs and serve.