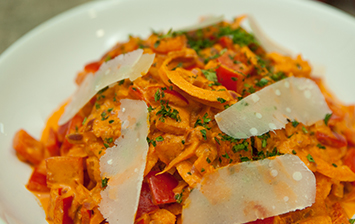 Ingredients
2 sweet potatoes
100g chorizo, diced
30ml olive oil
10 red peppers, deseeded
2 red onion, peeled and sliced
½ red chilli, finely diced
½ lemon, juice
1 bunch fresh basil
Salt and pepper to taste

Method (Serves 4)
For the sauce:
Roughly chop five red peppers and juice three. Heat the oil in a pan then add 1 of the onions and chilli. Fry until soft without browning.
Next, add the roughly chopped peppers and again fry until soft without browning. Add the juiced peppers and simmer for approx. 20 minutes until the liquid has cooked into the peppers, season to taste, add the lemon juice and blend until smooth.
In a separate pan, fry the chorizo until lightly browned then add the diced peppers and the remaining onion and fry for 4 – 5 minutes, stirring frequently.
For the sweet potato:
Spiralize the sweet potatoes with the Thin noodle blade. Cut the strands into 6-7cm pieces. Cut two of the peppers into 1cm dice and set aside.
Then, add the sweet potato and fry for 5-6 minutes stirring frequently. Add enough of the red pepper sauce to coat the sweet potato spaghetti and cook for a further 3-4 minutes. Serve sprinkled with torn basil leaves.