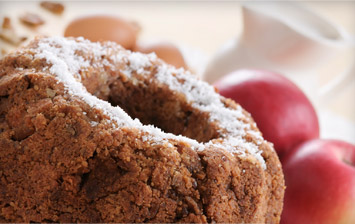 Ingredients
115g self-raising flour
130g wholemeal flour
100g brown sugar
1 ½ tsp cinnamon
125ml apple sauce
1 egg
125ml skim milk
1 tsp lemon rind
125g raisins
62g chopped walnuts
1 baking apple, peeled and sliced

Method (Serves 8)
Preheat the oven to 180°C. Coat a baking tray with olive oil spray.
Sift the self-rising flour, wholemeal flour, brown sugar and cinnamon together in a bowl. Stir the apple sauce, egg and milk together then combine with the flour mixture. Stir in the lemon rind, raisins, walnuts and apples. Pour into the baking tray.
Using oven mitts, insert the baking tray into the oven. Close the lid, set the timer and cook for 30 minutes, or until the cake springs back when toughed lightly.