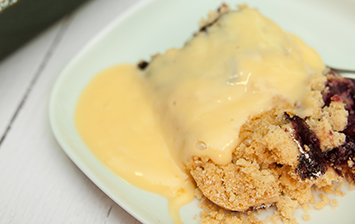 Ingredients
6 Bramley apples, peeled, cored
400ml fresh Bramley apple juice, reduced to 75ml
30g demerara sugar
30g unsalted butter
200g fresh blueberries
For the crumble:
250g plain flour
120g golden caster sugar
120g butter

Method (Seres 6-8)
Spiralize the apple with the thick noodle blade.
Heat the apple juice and simmer until reduced. This will intensify its flavour. Add the sugar, butter and apple and cook for 4-5 minutes. Remove from the heat and add the blueberries and leave to cool.
Spoon the mixture into the bottom of a baking dish. Put the flour, sugar and butter into a food processor and process until the ingredients start to come together into a crumb. Sprinkle the crumble mix on top of the apple mixture and bake in the oven at 170ºC for 15 – 20 minutes until the crumble is golden brown.
Serve with ice cream or fresh cream.