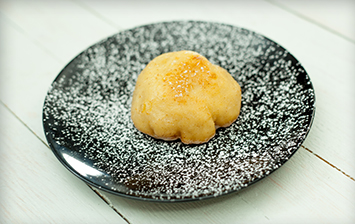 Ingredients
0.5kg of cooked potato
185g unsalted butter
2 large free range eggs, lightly whisked
400g plain flour, sieved
12 small apricots
40g golden caster sugar
120g unsalted butter, cut into 16 even squares
4g baking powder, sieved
50g demerara sugar

Method
Put the cooked potato, golden caster sugar and lightly whisked eggs into a bowl. Mix together lightly then add the flour and baking powder. Continue mixing until a dough forms. Divide the dough into 16 equal amounts.
Remove the stones from the apricots trying to keep the apricots as whole as possible. Place a small piece of butter and an equal quantity of demerara sugar in the middle of each apricot in the place of the stone.
Make a circle of the dough large enough to wrap each apricot piece. Wrap the apricot in the dough to form a dumpling then steam them for 12-15 minutes in the steamer. Remove from steamer and drain any excess water off with kitchen paper.
Preheat the grill on setting 5 and brush the plates with a little oil. Place each apricot dumpling onto the flat grill plate. Turn the grill setting down to 2 then put a little butter onto the grill plate. Cook the dumplings in the melted butter on the grill until they are golden brown. Turn them over and repeat on all sides. Serve with ice cream.