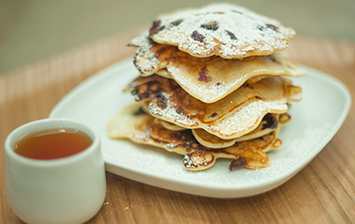 Ingredients
250g butternut squash
150g blueberries
280g plain flour, sieved
6g baking powder
1g salt
60g golden caster sugar
260ml milk
2 large free range eggs
30g butter, melted

Method (Makes 16 approx.)
Spiralize the butternut squash with the Thin noodle blade. Cut the strands into 3-4cm pieces.
In a bowl add the eggs, milk and butter, whisk well. In a separate bowl, sieve the flour and baking powder then add the sugar and salt. Add the milk and whisk well. Pass the mixture through a fine sieve to get rid of any lumps.
Add the butternut squash and blueberries and refrigerate for 20 minutes.
To cook, heat a little oil in a pan and cook for about 3-4 minutes on each side until they are golden brown.