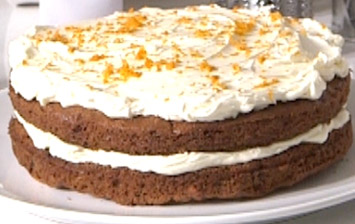 Ingredients
200g unsalted butter
200g soft light brown sugar
4 eggs
275g self-raising flour
1 tsp bicarbonate of soda
½ tsp salt
1 tsp ground cinnamon
Zest of 1 orange
150g raisins
250g carrots, peeled
For the icing:
500g cream cheese
150g icing sugar
Zest of 1 orange

Method (Serves 8)
Combine the sugar, butter and eggs, mixing on a high speed for 5 minutes until the mixture has doubled in volume
Sift the flour, bicarbonate of soda, salt and cinnamon into a bowl then fold into the wet mixture
Fold in the orange zest and raisins
Attach a shredder or shredding attachment and grate the carrots into the bowl
Fold in the carrot. Grease and line two 22cm cake tins and pour in the mixture
Bake for 25 minutes at 180°C
Transfer cake to a wire rack to cool, meanwhile mix together the cream cheese and icing sugar
Spoon half of the frosting onto one of the cakes and place the other cake on top. Spread the remaining icing over the top and sprinkle over the orange zest.