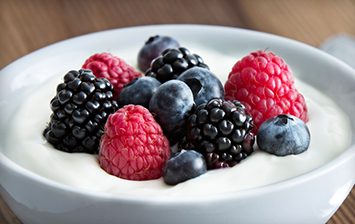 Ingredients
2 pts whole milk
1/2 cup plain yogurt (full fat)
Flavour option
50 g Frozen Mix summer berries
1 tbsp. Clear Honey

Method
Pour the milk into your Russell Hobbs Multi Cooker and select the steam programme
Allow the milk to heat up until it begins to bubble at the edges
Turn the multi cooker off and allow the milk to cool to about 37 degree
Once the milk has cooled add the yoghurt and mix well, removing all lumps
Select the yoghurt programme. When the programme is complete take out and place in the fridge to completely cool.
Meanwhile, place the mixed berries in a pan and heat gently, add the honey and cook until the fruit begins to fall. Take off the heat and cool. Mix the fruit and the yoghurt together.
If you want to store your yoghurt you must sterilize the jars you are going to use. Place them in the oven at around 100 degrees for 10 minutes or so. You do not want them in for too long as they could crack. The yoghurt will last for up to a couple of weeks.