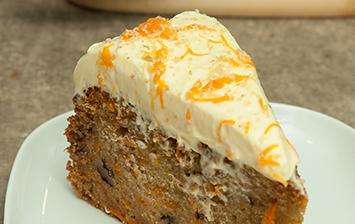 Ingredients
450ml vegetable oil
5 large free range eggs
2 oranges, zest and juice
400g plain flour, sieved
6g bicarbonate of soda, sieved
500g golden caster sugar
1g salt
3g ground ginger
7g ground cinnamon
600g carrot
100g chopped walnuts
Topping:
250g cream cheese
160g caster sugar
100g butter, soft
2 oranges, zest

Method (Serves 12-16)
Spiralize the carrots with the thin noodle blade. Cut the strands into 3-4 cm pieces.
Mix the eggs, oranges and oil together in a bowl until well combined. Then mix in the sugar.
In another bowl mix the flour, bicarbonate of soda, ginger, cinnamon and salt together. Add this to the egg mixture and combine well. Stir in the spiralized carrots and walnuts.
Put the mixture into a greased cake tin that has been lined with baking paper and cook in the oven at 160ºC for 1 – 1½ hours.
Once cooked, remove from the cake tin and allow to cool on a wire rack.
For the topping put all of the topping ingredients into a bowl and whisk well. Spread the topping onto the cake once it has cooled fully. Refrigerate for 20 minutes before serving.