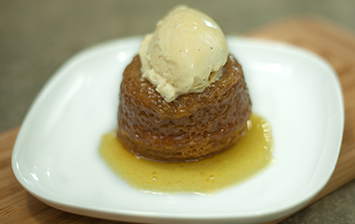 Ingredients
50g golden syrup
15g black syrup
17.5g self-raising flour, sieved
3g baking powder, sieved
175g butter, soft
3 large free range eggs
Extra butter and golden syrup for moulds

Method
Take 8-10 pudding moulds and butter them lightly.
Place 15 ml of golden syrup in the bottom of each pudding mould. Refrigerate the moulds for 20 minutes.
Mix the golden syrup, black syrup, eggs and butter together in a bowl. In a separate bowl mix the flour, baking powder and sugar. Mix this with the syrup mixture.
Divide the pudding mixture between the moulds. Steam the puddings for 5-10 minutes.