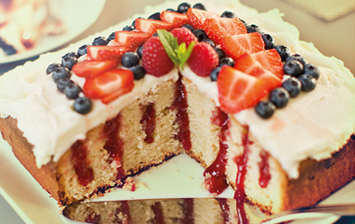 Strawberry Poke Cake
Ingredients
Cake Ingredients:
225g (8 oz) self-raising flour
225g (8 oz) butter, at room temperature
225g (8 oz) caster sugar
4 eggs
1 teaspoon baking powder
Strawberry Filling:
200g chopped strawberries
230g caster sugar
Buttercream Icing:
140g/5oz butter, softened
280g/10oz icing sugar
1-2 tbsp milk

Method
Preheat your oven to 180 degrees
In a large bowl mix together all of the ingredients using an electric whisk.
Take a 7inch baking tin and grease the tin fully.
Pour the mixture into the baking tray and bake in the oven for approximately 20 minutes.
Once cooked, place on a wire rack to cool.
Using the handle of a wooden spoon, poke holes 1" apart on top of the cake.
In a small saucepan, heat the strawberries for approximately 5 minutes or until they start to break down.
Add the caster sugar to the pan and cook for a futher 3 minutes or until the sugar has completely dissolved.
Using a hand blender, blend the strawberry mixture.
Gently squeeze enough mixture into the cake holes.
Refrigerate for approximately 30 minutes.
For the icing:
Using a kitchen mixer, mix together 140g of butter, 280g of icing sugar and the milk until it becomes smooth and stiffened.
Layer the icing on top of the cake and decorate with your choice of fruits!