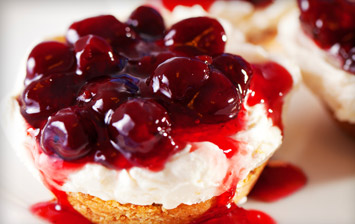 Ingredients
For the biscuit base:
130g whole wheat biscuits
2 tbsp melted butter
1 tsp mixed spices
For the filling:
250g cream cheese
3 tbsp castor sugar
125ml milk
3 eggs
125ml light sour cream
1 tsp vanilla essence

Method (Makes 12)
Preheat the oven to 160°C, and lightly grease flan tins or a muffin tin.
To make the biscuit base, roughly break up the biscuits and place in the food processor bowl. Add the mixed spice and process until biscuits are crumbed using the pulse button.
Pour in melted butter and stir with a wooden spoon until combined. Spread the base of the tins with the crumb mixture.
To make the filling, spoon the cream cheese into the processor bowl. Add the sugar and milk and process on a low speed until just mixed. Add the eggs and process until well combined. Add the sour cream and vanilla and process until all ingredients are mixed thoroughly and a smooth consistency.
Pour the cream cheese filling over the biscuit bases and smooth the surface.
Bake in the oven for 40-45 minutes, or until golden and lightly firm to touch.
Turn off the heat and leave in the oven for another hour to prevent cracking.
Chill in the refrigerator until ready to serve.
Serve with berries and cream.