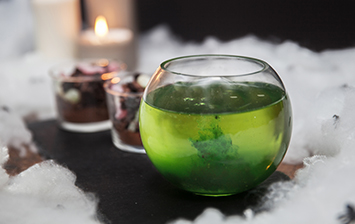 Ingredients
1 bottle of cranberry juice
1 bottle of raspberry apple juice
1 box of blueberries
1 bottle of lemon & lime soda

Method
Combine the cranberry, raspberry and apple juice and set aside to chill for 15 minutes.
Using the juice mixture, fill the ice cube trays halfway and put 1 blueberry in each cube.
Just before serving, top the ice cube trays with the lemon & lime soda.
Serve alongside Dirt 'n' Worms for the perfect spooky treat!