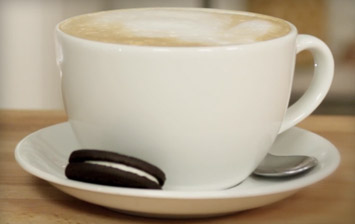 Ingredients
2 tbsp fresh ground coffee
300ml milk
Optional biscuit or cookie!

Method
Using the scoop and tamper, add around 2 tablespoons of fresh ground coffee to the small filter of the Russell Hobbs Buckingham Espresso Maker and tap down
Turn the steam control dial to the right to pour yourself an espresso
Switch to the frother control and turn the steam control dial to the left to steam 300ml of milk using the frother
Once the bottom of the jug is hot to the touch the milk is done
Pour the coffee and then the milk into a large cappuccino mug. Spoon on some froth to finish
Serve with your favourite biscuit or cookie!