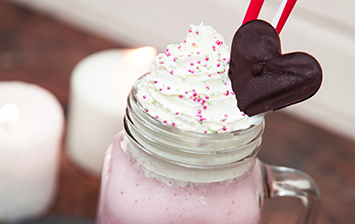 Ingredients
200ml coconut milk
Approx. 300g strawberries
85g vanilla ice cream
Strawberry syrup
Sprinkles

Method
Pour the coconut milk, strawberries, vanilla ice cream and strawberry syrup into a RH blender.
Ensuring the lid is on, blend the mixture until smooth.
If the mixture is too thick, keep adding some milk to the mixture until you reach your desired consistency.
For the perfect valentines touch, serve the smoothie in a mason jar with whipped cream and a chocolate!