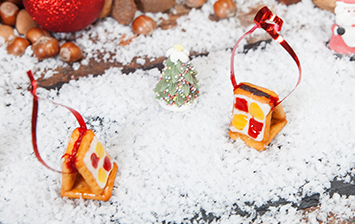 Ingredients
Rectangular biscuits or crackers
Buttercream
Chocolate/candy
Icing pens
Christmas ribbon

Method
Firstly, decorate one side of 2 crackers however you like! We chose to follow a simple house design.
Set aside and freeze for 15 minutes.
Once the icing has become firm, take another cracker and pipe a thin line of buttercream along two opposing sides of the cracker.
Take your two decorated crackers and position them on the buttercream line which will act like glue.
Freeze for a further 15 minutes or until solid.
Once the crackers houses have hardened, simply loop some Christmas ribbon through the house and tie a bow.
Hang these on your Christmas tree for an extra special touch!