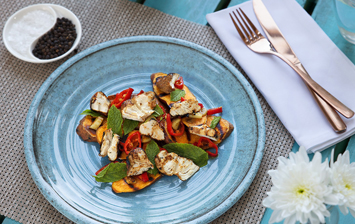 Ingredients
2 large sweet potatoes, washed and sliced lengthways into 5mm-thick slices and brush with olive oil
1 large chicken breast
2 table spoon olive oil
Handful of mint leaves
1 red chilli, diced
Sea salt & Black Pepper

Mix together the olive oil, garlic, diced chilli and mint in a mixing bowl. Add the chicken breast and leave to marinade for 30 minutes.
Brush the sweet potato slices with olive oil to coat them and season with salt and pepper.
Grill the sweet potato slices for 4 minutes on each side until cooked, turning once. Using tongs, transfer the grilled sweet potato from the grill to a plate.
Grill the chicken until cooked through.
Cut the chicken into chunks and place on top of the sweet potato slices.
Finish by topping with some slices of chili for extra heat and a sprinkle of mint leaves.