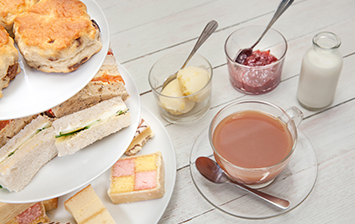 Ingredients
Smoked salmon
Cream cheese
Granary bread
1 cucumber
1 packet of sliced ham
1 packet of cheese slices
4 scones
A selection of tea cakes
Raspberry jam
A selection of teas
Clotted Cream

Method
Using fillings of your choice, make the sandwiches but ensure that these are individual portions.
Split the scones in half and layer with raspberry jam and cream.
Provide a selection of tea cakes, cut into individual slices.
For the ultimate afternoon tea treat, use a selection of teas in a classic teapot.