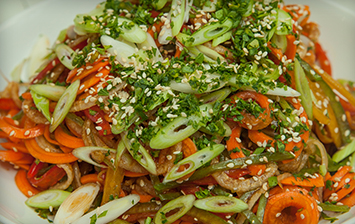 Ingredients
½ daikon
1 large carrot
100g mange tout, sliced
1 red pepper, sliced
1 yellow pepper, sliced
4 spring onions, sliced
Dressing:
20ml dark soy sauce
30g demerara sugar
30ml vinegar
100ml sesame oil
50ml vegetable oil
10g sesame seeds, toasted
½ red chilli, finely diced
3g ginger, finely grated
½ bunch coriander, chopped
Salt and pepper to taste

Method (Serves 4-6)
Spiralize the daikon and the carrot with the thin noodle blade then cut it into 2-3 cm pieces.
To make the dressing, combine all ingredients in a bowl and mix well. Mix all the salad ingredients together in a bowl and pour over the dressing. Mix well and serve.