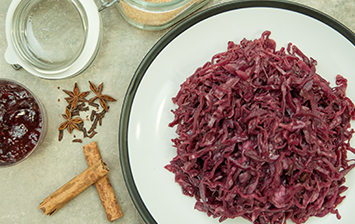 Ingredients
1 red cabbage
150g red currant jelly
250ml red wine
100ml red wine vinegar
6 whole cloves
1 cinnamon stick
1 whole star anise
100g demerara sugar
Salt and pepper

Method
Spiralize the red cabbage with the Spiral slice blade.
Add all ingredients to a pan and cover with a circle of baking paper cut to size to rest directly on top of the cabbage. Place two layers of cooking foil over the top of the pan folding it down tightly to seal the top of the pan.
Heat the oven to 140ºC. Ovens differ so check after 1½ hours if the cabbage is soft and tender. If not, continue cooking for another 30 – 45 minutes checking regularly.