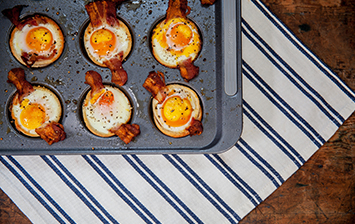 Ingredients
45g melted unsalted butter
8 slices white or whole-wheat sandwich bread
6 slices bacon
6 large eggs
Coarse salt and ground pepper

Method
Preheat an oven to 190°C and lightly butter your muffin tray.
Using a rolling pin, flatten bread slices and cut into 8 circles.
Cut each circle in half, and then press the two halves of bread into each muffin cup so that they overlap slightly. Use any leftover bread to fill in the gaps in the moulds.
Brush the bread with the butter to prevent from going too crispy.
Fry the bacon slices over a medium heat until they are almost crisp (these will continue to cook in the oven).
Place one piece of bacon in each cup and fill with any extra fillings of your choice.
Crack an egg over each cup and season with salt and pepper.
Bake until the egg is fully cooked and serve immediately.