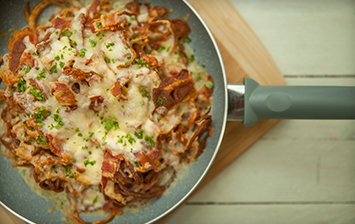 Ingredients
6 potatoes
3g Cajun spice powder
1g chilli powder
8 rashers smoked
streaky bacon, cooked
until crispy
1 red onion, finely diced
200g cheddar cheese, grated

Method (Serves 4-5)
Spiralize the potatoes with the Thick noodle blade. Cut the strands into 3-4 cm pieces.
Deep fry the spiralized potato at 160°C until they start to become golden brown and crisp, remove and drain on kitchen paper.
Mix the Cajun spice and chilli powder together and sprinkle over the potatoes. Put the potatoes on a heatproof dish and sprinkle with the diced onion, bacon and cheese. Put under a hot grill until the cheese has melted.