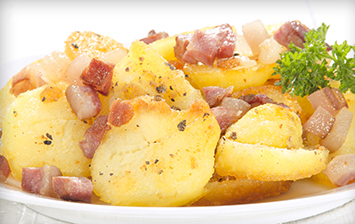 Ingredients
1.5kg Potatoes, peeled and cubed
40g Butter
2 tbsp. Olive oil
2 Onions, chopped
4 Rashers Streaky Bacon, chopped
5 sprigs Parsley, chopped
Salt and Pepper to taste

Method
Firstly select the steam programme on your Russell Hobbs Multi cooker and place the peeled and cubed potatoes into the bowl and cover with water.
Add a good pinch of salt close the lid and cook for 10- 15 minutes or until the potatoes are cooked but not falling apart. Drain and set aside.
Empty the water out of the bowl and again on the steam programme, place the oil and the chopped bacon and onions into the bowl.
Cook for 5 -8 minutes, stirring occasionally until the bacon begins to crisp.
Add the potatoes and cook for 15 minutes or until potato is crisp, stirring occasionally.
Stir in the parsley, season to taste and serve immediately.