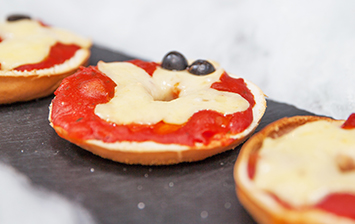 Ingredients
8 slices mozzarella
8 bagels
Marinara sauce
4 black olives

Method
Preheat the oven to 180C.
Cut the mozzarella slices into ghost shapes using a knife or a template.
Spread a thin layer of marinara sauce over the pizza bagel and top with the mozzarella ghost slice.
Bake for 10 minutes or until the cheese has melted.
Cut the olives in half to make little eyes for the ghosts.
Serve.