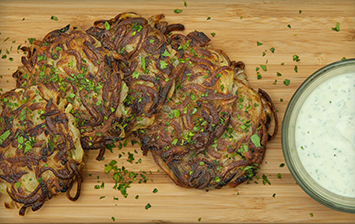 Ingredients
2 potatoes
1 onion, grated
Olive oil
Salt

Method (Serves 6)
Spiralize the potatoes with the Thick noodle blade. Cut the strands into 2-3 cm pieces.
Mix together the potato, onion and olive oil, seasoning well. Use a cloth to squeeze out as much liquid from the mix as possible.
Shape the mixture into golf sized balls, flatten slightly and refrigerate for approx. 20 minutes. To cook, heat a little oil in a pan and fry each side of the hash brown until golden brown.