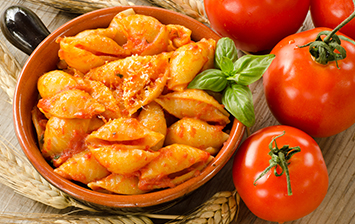 Hidden Veg Pasta Sauce
Ingredients
Hidden vegetable pasta sauce:
30g olive oil
1 large onion, finely chopped
1 leek, chopped
2 carrots, chopped
2 sticks celery, chopped
2 red peppers, de-seeded, chopped
2 cloves garlic, chopped
2 x 400g tins chopped tomatoes
30g tomato puree
15g caster sugar
15g malt vinegar
Salt and pepper to taste
To serve:
200g pasta shells
Grated cheese

Method
Heat the oil and add the onion, and garlic and cook for 2-3 minutes. Add the vegetables and cook for a further 5-6 minutes, stirring continuously.
Stir in the tomato puree and cook for 2-3 minutes.
Add all other ingredients, bring to the boil then turn the heat down to a simmer. Cook for 30-45 minutes.
Leave to cool (until below 40C).
Blend until smooth.