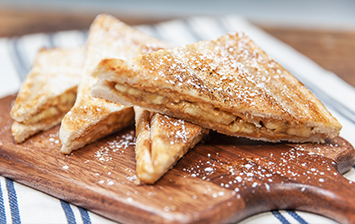 Ingredients
10g butter
2 slices white bread
16g golden caster sugar
2g ground cinnamon
30g crunchy peanut butter
1 ripe banana thinly sliced
6g clear honey
A little icing sugar
Vanilla ice cream, to serve

Method
Using 2 slices of white bread, only butter one side of each
In a small bowl, mix together cinnamon and golden caster sugar, then sprinkle this over the buttered side of the bread so that it sticks.
Using a sandwhich maker, place one of the slices, butter side down.
Cover this slice with a thick layer of peanut butter and then layer on top the banana slices.
To make this recipe extra special, drizzle with honey.
Sandwich your two bread slices together and cook until golden.
Once cooked, dust with icing sugar and serve with vanilla ice cream.