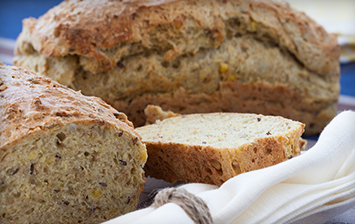 Ingredients
500g Multi seeded Flour
7g sachet fast-action dried yeast
1½ tsp Salt
1 tbsp. honey
25g butter
275ml Warm Water

Method
In a bowl mix the flour and salt, then rub in the butter.
Add the yeast, honey and warm water and mix into a dough.
Then knead on a floured board for around 10 minutes until the dough is elastic and soft.
Place back into the bowl and cover with cling film and leave in a warm place for around 1 hour.
Take out and knead again for 3 – 4 minutes.
Put back in the bowl and cover again for 20 minutes or so.
Turn on your Russell Hobbs Multi cooker and select the bread programme – when warm, carefully place the dough into the greased bowl, close the lid but remove the steam cover on the top of the machine.
This allows excess moisture to leave the cooker. When the bread has baked for 2.30 hours tip the bread out and replace it in the bowl upside down to allow the top to be browned.