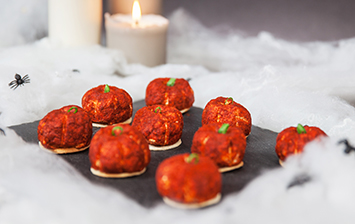 Ingredients
220g softened cream cheese
20g finely chopped roasted red peppers
2g garlic powder
2g cayenne pepper
85g grated cheddar cheese
Paprika for decoration
2 spring onions
2g salt

Method
In a large bowl, mix together the garlic powder, cayenne pepper, red peppers and cream cheese until well combined.
Refrigerate the mixture for approximately 2 hours so that the mixture becomes firm enough to handle.
Roll the mixture into approximately 2 1/2 cm sized balls.
Gently coat each ball in the cayenne pepper and refrigerate for a further 15 minutes.
Using a knife, draw lines down the side of each ball to look like a pumpkin shape.
Slice the spring onion into approximately 2 1/2 cm pieces and place ontop of the cheeseballs to resemble a pumpkin stem.
Refrigerate until you need to serve.