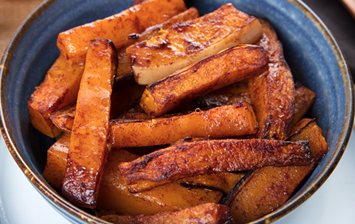 Ingredients
1 pumpkin
1/2 tsp salt
1 tbsp olive oil
1 tsp garlic powder
1/2 tsp ground cinnamon

Method
Preheat oven to 175C.
Slice pumpkin in half, remove seeds and peel the pumpkin before cutting into ½ inch strips.
Mix together olive oil and seasonings in a bowl. Dip pumpkin strips in the bowl so they're coated in the mixture.
Place fries on a baking tray and roast for 15 minutes or until tender. Raise temperature to 205C and broil the fries for another 3 minutes until they're nice and crispy.