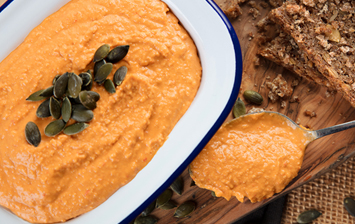 Ingredients
500g pumpkin, peeled, seeded, cut into 3cm pieces
400g can chickpeas, rinsed and drained
1 garlic clove, crushed
1 tablespoon ground cumin
2 tablespoons fresh lemon juice
80ml olive oil
Chopped fresh parsley, to serve

Method
Preheat the oven to 200°C. Place the pumpkin, in a single layer, on a baking tray and drizzle with oil and season with salt and pepper. Bake for 30-35 minutes or until tender. Set aside for 20 minutes to cool.
Place the pumpkin, chickpeas, garlic and cumin in a food processor until almost smooth. Add the lemon juice and process until well combined.
With the motor running, add the oil in a thin steady stream until smooth. Transfer the hummus to a serving bowl. Sprinkle with parsley and serve.