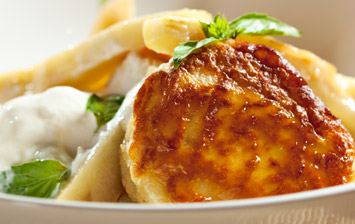 Ingredients
2 cups wholemeal plain flour
2 tsp baking powder
¼ tsp salt
1 tbs caster sugar
1 egg
1 cup natural yoghurt
½ cup low fat milk
250g fresh ricotta
Olive oil spray

Method (Makes 24)
Combine the flour, baking powder, salt and caster sugar in a large bowl.
Place the egg, yoghurt and milk in your blender and blend for 20 seconds.
Add the wet mix to the dry mix and gently fold the ricotta into the batter.
Heat a frypan over medium-high heat and spray lightly with olive oil spray.
Place dollops of batter on to the grill and cook for 1 minute or until bubbles rise to the surface and the pikelets are golden underneath. Flip them over and cook for another minute. Repeat with remaining batter. Serve warm.