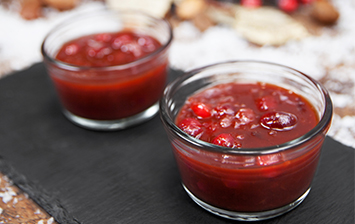 Ingredients
1 (12-oz.) package fresh cranberries
1 cup sugar
3/4 cup apple juice
1/4 cup minced red onion
2 tablespoons butter
2 apples, peeled and coarsely chopped
1/2 cup smoky barbecue sauce
Garnish: fresh parsley sprigs

Method
In a medium sized saucepan, mix together the cranberries, sugar, apple juice and red onion and bring to a boil.
Reduce the heat to low and simmer occasionally until the cranberry skins begin to split.
Once the mixture begins to thicken, stir the apples and barbecue sauce into the cranberry mixture and simmer for 5 minutes.
Cover the mixture and allow to chill for 24 hours before serving.