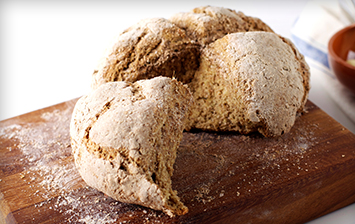 Ingredients
1 Pkt, Soda Bread mix (such as Wright's)
350 Ml Water
Butter to grease the bowl

Method
Firstly grease the base and lower sides of the machine bowl with a little butter
This stops the bread from sticking to the sides when baking
Turn on your Russell Hobbs Multi Cooker and select the bread option
The default time of 3 hours will show
Select the timer and reduce the time to 2.15 hours
In a large baking bowl place the packet mix and the water and combine by hand. This will take a minute or so
Then place the mix in the now warm bowl, it should almost cover the entire base of the bowl
With a plastic spatula divide the bread dough into quarters. Close the lid.
After 1.45hours check on the bread – the base should be golden brown and have a hollow sound to it when tapped
Turn the loaf over and leave for the last half an hour – this is so the top of the loaf becomes slightly crispy.
Take out and place on a cooling tray for as long as you can resist the smell of warm bread. Eat with some salted butter on its own or as an acompliment to a meal.
Top Tip: don't leave the bread in after it has finished cooking as it will end up being a bit soggy.