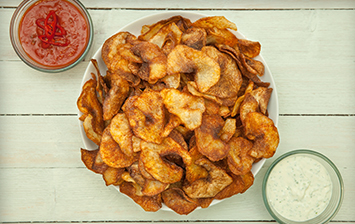 Ingredients
2 potatoes
2g chilli powder
2g spiced paprika
2g Cajun spice
Salt

Method (Serves 4)
Spiralize the potatoes with the Spiral slice blade. Cut the ribbons into 2-3 cm lengths.
Heat a fryer to 150ºC then fry the crisps until crispy, drain on paper.
Mix the chilli powder, paprika, Cajun spice and salt together then sprinkle over the crisps while hot. Leave to cool and serve.