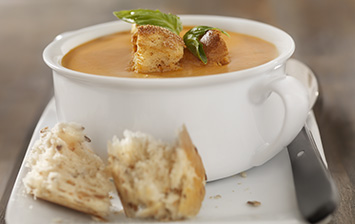 Ingredients
1 1/2 lbs of ripe plum tomatoes
5 tablespoons olive oil
2 diced garlic cloves
1/2 teaspoon dried oregano
1/4 teaspoon drief basil
1/2 teaspoon black pepper
1 onion
230ml of chicken broth
170ml of heavy cream
2 tablespoons of tomato puree
1 teaspoon of sugar

Method
Pre-heat the oven to 475 degrees.
Cut the tomatoes lengthwise and lay them on a baking tray.
Brush the tomatoes with the olive oil and place the crushed garlic into the cut tomato. Sprinkle with oregano, basil and pepper to season.
Roast the tomatoes until they begin to look soft and charred for approximately 20 minutes.
Once cooked, add the tomatoes to the EasyPrep Jug Blender and scrape the oil and herbs from the baking tray too for extra flavour.
Process until nearly smooth (leaving small chunks)
Dice the onion and add to a saucepan with the remaining oil.
Whisk in the tomato puree, sugar and broth.
Add this mixture to the jug blender and then gently pour in the heavy cream.
Process for a further 30 seconds or until desired consistency is reached.
Add salt & pepper to season.